Full Tilt Creative Centre is no longer taking applications for the artist residency, Wwoofing, and other accommodations listed on the site. This site now functions purely as an archive of Full Tilt Creative Centre's past activities and events. For any other inquiries, please email: urbanlilak@yahoo.com
Welcome to Full Tilt Creative Centre and organic farm, located in scenic Western Newfoundland, Canada. Full Tilt Creative Centre is situated on a 25 hectare farm in the wooded hills of Newfoundland, an island province on Canada's Atlantic coastline. The centre is part of the outport community of McIvers (pop. 700), in the Bay of Islands.
The creative centre has an exhibition space with media projection equipment. Full Tilt Creative Centre encourages a variety of mixed functions serving both local community and visitors.

Each year Full Tilt is home to artists from all over the world. Over the years Full Tilt has hosted artists from all across Canada and countries including Japan and Germany. Read more about the past and present artists on the Artist Residencies page. Full Tilt also has a fully functioning Organic Farm, that produces a wide variety of vegetables during the summer months. Wwoofers and other volunteers can often be seen lending a hand on the farm. The produce is sold weekly at the local Farmers Market in Corner Brook.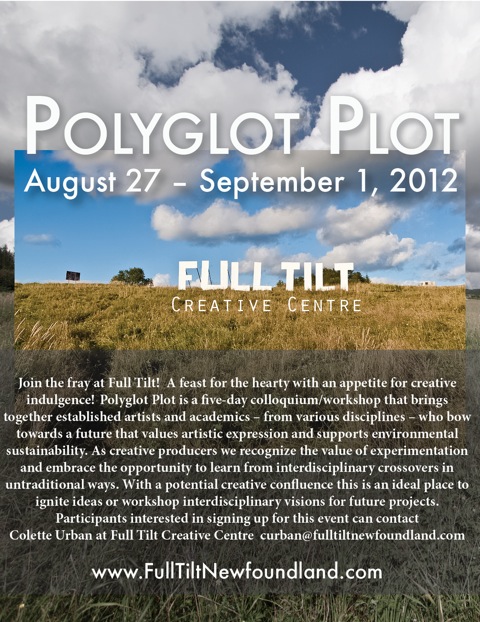 Polyglot Plot colloquium at Full Tilt Creative Centre
August 27-September 1, 2012
Polyglot Plot is a five-day colloquium/workshop that brings together established artists and academics – from various disciplines – who bow towards a future that values artistic expression and supports environmental sustainability. As creative producers we recognize the value of experimentation and embrace the opportunity to learn from interdisciplinary
crossovers in untraditional ways. With a potential creative confluence this is an ideal place to ignite ideas or workshop interdisciplinary visions for future projects. Participants interested in signing up for this event can contact Colette Urban at Full Tilt Creative Centre curban@fulltiltnewfoundland.com
The fee for Ployglot Plot is $550. (+ HST). This includes accommodations for 5 nights, an opening reception, daily lunch and snacks and a closing banquet. Participant fee not requiring accommodation is $200. (includes lunch, snack and banquet) Dates are August 27 – September 1, 2012. Number of participants will be limited to 15. For more info, please read the pdf here.(Will open in new window)
18 September 2011 : Sea Dab Jag – Click here for details
25 February 2010 : Colette Urban featured on The Star.com
Please join our mailing list and social pages at the bottom of this page to be kept informed of up coming events, workshops, exhibitions and lots of other great stuff.
Full Tilt Newfoundland Enterprises Ltd. gratefully acknowledges the funding assistance for advertising from Newfoundland and Labrador's Department of Tourism, Culture and Recreation.